'Daboot' team with the 'LuceMia' charity at the Proton Therapy Centre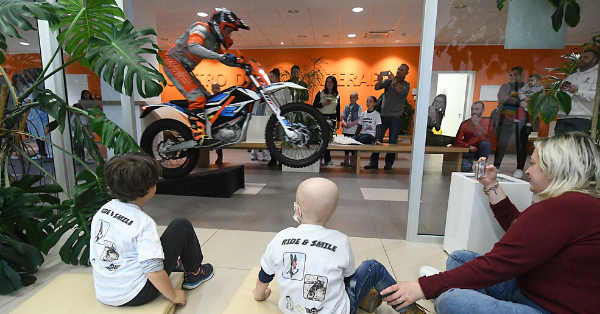 Smiles, emotions and adrenaline. Today was not just an ordinary day at the Proton Therapy Centre in Trento.
The athletes of the Daboot team, professional riders and semi-professionals of motocross and bikes, gave a show in the hall of the proton therapy center, delivered smiles, t-shirts and gadgets to young patients.
With sympathy and exuberance, the riders have 'stolen' some time from the thought of diseases, playing with the children and making them try even the electric bikes. The event was organized in cooperation with 'LuceMia. The smile of Laura Randi', the charity based in Bolzano founded by Laura's family, which organizes events and initiatives in hospitals with the aim of giving a few moments of joy to sick children.