Merry Christmas greeting and gifts to the children and mothers who will spend the festivities away from home: an act of love by the volunteers of the Lene Thun Foundation, for sick children and their families. Today Peter Thun, president of the Lene Thun Foundation, accompanied by Paolo Bordon, General Director at Apss, and Maurizio Amichetti, MD, director of the Proton Therapy Centre, met the young patients undergoing treatment and their families to present them with gifts. A beautiful initiative by the South Tyrolean foundation, which became true with the help of the employees of the company known for its ceramic creations, in order to be closer to those who will celebrate Christmas away from home.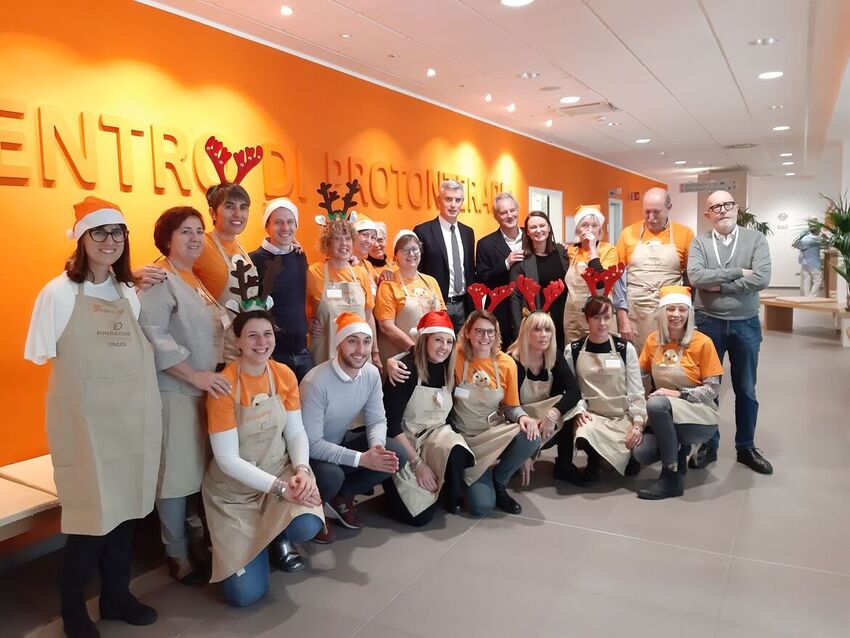 Apss General Director Paolo Bordon said: "Our thanks goes to the Thun Foundation, its President and Volunteers for their sensitivity and for welcoming our Centre into their large network of hospitals. The weekly workshops ran by the Foundation support the families and children at out Centre, allowing us to offer them something more than just medical treatments, an approach which alleviates and supports them through the hard times of their illness".
"Lene Thun Foundation in Hospitals" project, born in 2014, foresees the realisation of permanent ceramic modelling laboratories, free of charge, in the paediatric wards of the main Italian hospitals ,through a team of volunteers and ceramists expert coordinated by the South Tyrolean Onlus. To date, 47 laboratories have been set up by the Foundation, including those in Proton Therapy, Paediatrics and Paediatric Surgery at in Trento, where young patients create clay artfacts giving vent to their imagination. The efficacy of recreational therapy, as a support to medical and pharmacological protocols, is scientifically recognized and is the soul of the Foundation's ceramic laboratories.
With Christmas approaching, "Mission Smile" was launched: the employees of the South Tyrolean company, dressed as Santa Claus and the volunteers of the Lene Thun Foundation, are bringing some joy to the many little ones who are away from home during these festive days.
"For us - said Peter Thun, founder of the Onlus and President of the company - it is not only a joy but also a great honour to be here with a hug, a smile, a small gift to give the little ones and their families, as far as possible, a comfortable moment on a day when everyone deserves to be surrounded by the warmth of their own homes. A big "thank you!" to our 30 volunteers who are here every week with passion". Peter Thun then, also thinking of the mothers who struggle with their children every day, brought them a small gift with the hope that the #MissioneSorriso could last every day of the year and not just at Christmas and recalled: "Love is like clay. It seems fragile but, in the right hands, it can take wonderful shapes".